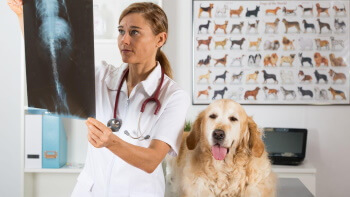 Forging ahead with the changing times is the need of the hour. The advances being made in the field of medical imaging need not be restricted to benefit just the members of the Homosapien species alone. Our canine, feline, equine, and avian friends, among others, can also enjoy the benefits of changing technology.
Online cloud PACS for veterinary clinics connects, controls, and manages everything from image acquisition and compilation of reports to archiving and transfer of image data. It enables easy integration into all common practice information systems.
A cloud PACS system is made of various devices that work in tandem, thus enabling the non-usage of personal, digital films. It captures, uploads, and stores images and data of a patient using an online methodology. The files are then streamed to form a cloud. All that the user needs, is to have internet connectivity in order to access the cloud and retrieve and view images. It guarantees efficient service with real-time collaboration of medical images.
Features of Online Cloud PACS for Veterinary Clinics
Cloud PACS can be provided on PC and MAC platforms.

Desktop accessibility on PC may include IE 9(or later), Google Chrome, Apple products, Safari on the MAC, Mozilla Firefox, and iPad.

DICOM viewer with various viewing tools.

Ability to log in from multiple computers. Login credentials need not be limited to one. More than one login can be added as per requirement.

Enables the medical practitioner to pick up an old study and view the image, report immediately, and compare it with the new study, using PRIORS.

Easy access to the database of old reports and images via multiple parameters.

24x7, all year-round support and help.
Advantages of Online Cloud PACS for Veterinary Clinics
It's omnipresent. Wherever you may be, the cloud solution is there with you, like a faithful shadow. This, in turn, affords veterinary doctors the opportunity to work even in remote areas. Additionally, a patient's health information can be quickly and effortlessly shared with other practitioners.

Online cloud solutions have brought an end to the days of data loss. Worries concerning data loss due to power outages or hard drive crash are things of the past

Considerable reduction in expenditure by virtue of replacing CDs and local storage costs. It also helps save valuable office space that might otherwise have been required to physically store CDs and films.

It can be adapted for use in large and small animal practices.

No personnel needed.

Not constrained by environmental conditions.

Environment friendly, as it does away with the need for energy, for power or cooling.

An efficient system for the secure and reliable exchange of health information.

Allows clients to form a single storage pool using multiple storage resources.

Boon for customers due to low repair and maintenance costs.

Redundancy backup and recovery system.
Online cloud PACS solutions for Veterinary Clinics are user-friendly tools for daily veterinary care. Many practices have begun hooking onto cloud solutions to upgrade and improve their services.
Why should you be left behind? Get in touch with us at Post DICOM and let us help you not only keep pace with the changing times but also give our furry friends the best that technology can offer!
Cloud PACS and Online DICOM Viewer

Upload DICOM images and clinical documents to PostDICOM servers. Store, view, collaborate, and share your medical imaging files.